Crypto Assets: Seminar & Networking Lunch
Crypto Assets: Seminar & Networking Lunch
2023-05-17
2023-05-17
Nottingham Business School, Burton Street, Nottingham
Session: Crypto Assets: Seminar
17-05-2023 at 12:00
17-05-2023 at 16:00
Early Bird Booking Offer Extended - book your place before 31st March and save £20!
Early Bird Member Rate: £55 (plus VAT) Early Bird Non-Member Rate: £75 (plus VAT)
After 31st March:
Standard Member Rate: £75 (plus VAT) Standard Non-Member Rate: £95 (plus VAT)
The event fee includes a two course lunch, refreshments and seminar fee.
Join the Private Client Committee at the first seminar of the year, this time focussing on Crypto Currency!
The seminar begins with a networking lunch, followed by presentations from Louise Lane from Wright Vigar.
There will also be a presentation from Brewin Dolphin.
Seminar Outline:
Session 1: Intro to Crypto Tax
Overview of crypto/use cases/common terms
Tax implications of crypto activity
Advising clients with crypto
Estates & IHT considerations
Divorce considerations
Session 2: Clients with Crypto: Practical Aspects
Why and how crypto tax software is essential
Security awareness when handling crypto data
Holding clients' crypto
Checklist of info needed from crypto clients
Digital Wills
Download information on Wright Vigar's Crypto Services
Agenda
12.00pm Registration, arrival and networking lunch
12:50pm Welcome - Private Client Committee Chair, Bindiya Patel
1:00pm Intro to Crypto Tax
2:00pm Presentation from Brewin Dolphin
2:30pm Refreshment Break
3:00pm Clients with Crypto: Practical Aspects
4:00pm Q&A
4:30pm Vote of thanks & closure
Presenter: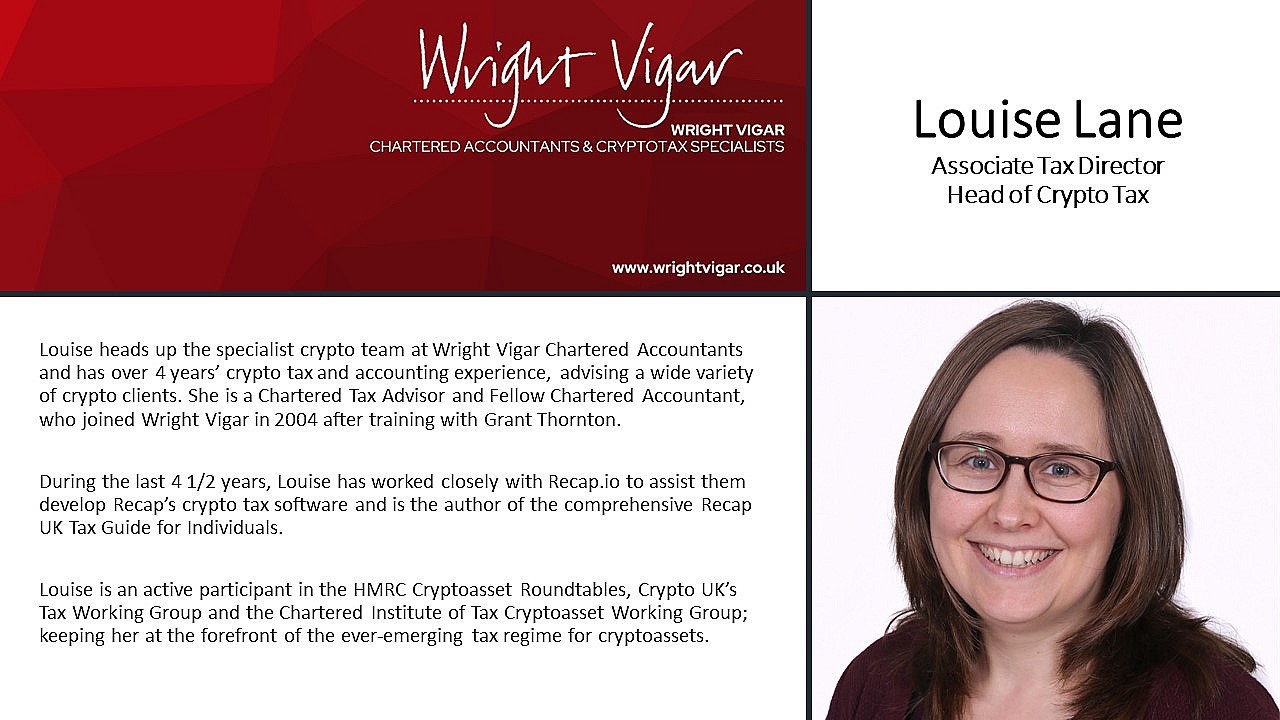 Book a ticket below for this event
Ticket name:
Crypto Assets: Seminar & Networking Lunch Early Bird Offer (Book before 31st March 2023)
Non-Members Price:
£75.00
Ticket name:
Crypto Assets: Seminar & Networking Lunch Early Bird Offer (After 31st March 2023)
Non-Members Price:
£75.00